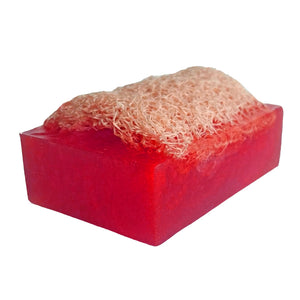 "CHERRY ALMOND" Handmade Moisturizing Luffa Soap 4oz Bar
Joy is a decision. Choose Cherry Almond.
Many remember as kids the favorite flavor of Cherry Soda.
Bring back memories or create new ones when using this soap with its classic Cherry fragrance with Almond overtones. During the Holidays, this soap will delight your guests as they wash up for that awesome dinner you have prepared. Kids also love this scent and will build memories of that sweet Cherry soap that was in Auntie's bathroom. We embed a piece of Luffa Sponge in the top 1/3 of the bar.
Ingredients: Olive Oil (Grade A extra virgin), Palm Oil, Coconut Oil, Safflower Oil, Glycerin (kosher, of vegetable origin), Aqua/Water/Eau, Sodium Hydroxide (saponifying agent), Sorbitol (moisturizer), Propylene Glycol (of vegetable origin),  Sorbitan oleate (emulsifier), Oat protein (conditioner), Colorant, Fragrance, Biodegradable glitter. Approximately 4oz bar.