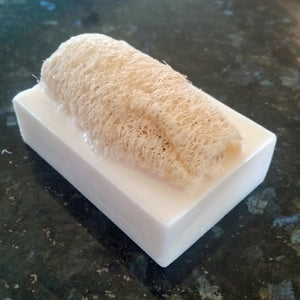 "LOVESPELL" Handmade Goat's Milk Moisturizing Luffa Soap 4oz Bar
Goat's Milk Creaminess with an Ultra Soft Embedded Luffa.
This soap is a MUST for that soothing relaxing bath or shower at the end of the day. The soft feel of real Goat's Milk and the luxurious Luffa combined in this soap is just ----mmmmmmmmmmm. The added fragrance of "Lovespell" (a combination of peach, cherry blossom, and white jasmine scents) is at the top of Sherri's favorite fragrances and will just put you in a great mood! :). We embed a piece of Luffa Sponge in the top 1/3 of the bar. Approximately 4 ounce bar.
Ingredients: Coconut Oil, Palm Oil, Safflower Oil, Glycerin (kosher, of vegetable origin), Goat's Milk, Aqua/Water/Eau, Sodium Hydroxide (saponifying agent), Sorbitol (moisturizer), Propylene Glycol (of vegetable origin), Sorbitan oleate (emulsifier), Oat Protein (conditioner) , Titanium Dioxide (mineral whitener used in opaque Soaps), Fragrance oil