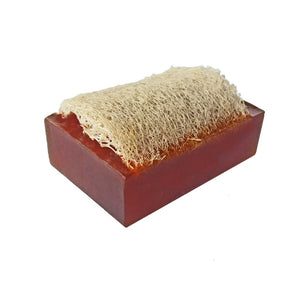 "Heavenly Honey" Handmade Moisturizing Luffa Soap 4oz Bar
Honey, Your Soul is Golden!!!
Heavenly Honey smells just like sweet pure honey. It is very warm with light hints of jasmine, peach and spun sugar. It is super moisturizing and great for your skin. To get the color of honey we added turmeric. Turmeric is all-natural and known for its anti-inflammatory properties. This is my new favorite, especially for the new year! :)
Approximately 4-ounce bars. 3" x 2" x 1"
Ingredients: Olive Oil (Grade A extra virgin), Palm Oil, Coconut Oil, Safflower Oil, Glycerin (kosher, of vegetable origin), Aqua/Water/Eau, Sodium Hydroxide (saponifying agent), Sorbitol (moisturizer), Propylene Glycol (of vegetable origin),  Sorbitan oleate (emulsifier), Oat protein (conditioner), Wheat Protein, Colorant, Fragrance, Turmeric