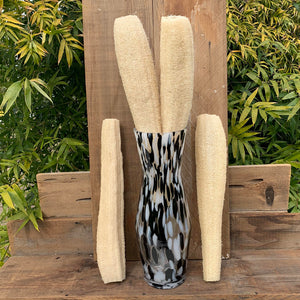 #1 All Natural Farm Grown "MONSTER" Luffa Sponge!!!
Regular price $19.95 Sale
Whoa---Whole Luffa 15"+ Long
Because of Popular Requests!
One of the most unique gift ideas you could come up with! Who do you know that has EVER received a "MONSTER" luffa as a present???
We have a limited supply of monster uncut luffa because so few grow this long. These are the same type luffas we cut our various sizes from. As you can see in the picture, width on an individual whole luffa varies from about 2" to about 4". Use whole or cut to the sizes you prefer.

Please note: For shipping purposes, we fold the monster luffa in half. When you receive it, throw it in warm water and the original shape will come back.